Low Price Customized Truck Scale for Sale
Low Price Customized Truck Scale for Sale
Zhengzhou Huaxin Electronic Weighing Apparatus Co.,Ltd. is a professional manufacturer on weighing apparatus which has been exported to abroad for many years. The main product is electronic weighing apparatus, including truck scale, weighbridge, weighbridge truck scale, waterproof weighing scale, platform scale, tcs electronic platform scale, floor scale, crane scale, ocs crane scale, digital bluetooth hanging scale, etc.
Customized truck scale for sale is suitable for cargo terminals, ports, chemical plants, warehouses and other institutions. Its superior performance and stability not only improve the settlement efficiency of materials in industrial and mining enterprises, but are also deeply applied to monitoring of production process and management of comprehensive business data to adapt to operating frequency and operating environment in special industries, and ensures the accuracy and working life of the truck scale.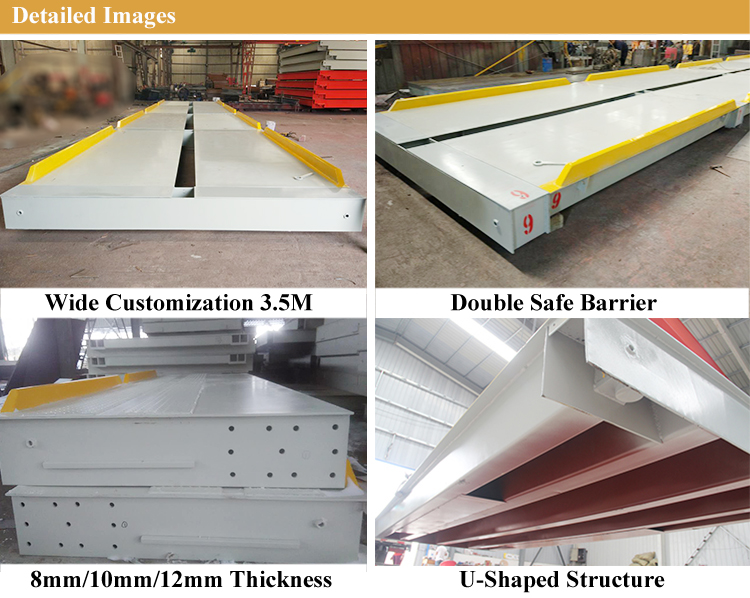 ♦ Customized panel thickness(slab 8mm~20mm, checkered plate 4mm~18mm) causes thicker plate, can greatly enhance the working intensity and useful life of truck scale, then extend the service life of 15 years.
♦ Customized entire panel width (1.5m~3.4m) ensures solderless joint to improve strength, and the overall compression capacity.
♦ Customized U-shaped beam height(190mm~420mm) and thickness (3mm~8mm), the useful life and load-bearing capacity of this structure depends on the U-shaped beam height and thickness. The load-bearing capacity can be further increased by 25% through U-shaped beam back cover, and then more effectively prevent the impact caused by overloading of the weighing platform.
♦ Optional sections: channel steel, I-shaped steel, angle steel, etc: Optional materials: Q235, Q345.
♦ Scale structure: designed according to the customers' actual situation (on the ground, in the ground).
♦ Electrical parts: the widespread availability of various domestic and foreign brands of sensors and instruments, instruments can be customized by R&D, and sensors can be customized according to applications.
♦ Customized services: we provide with overall service of weighing apparatus products, and help detect a variety of instruments and equipments, including laboratory equipment such as optics, mechanics, length, thermal, metering, etc.
Huaxin offer 80 ton truck scale, 60 ton truck scale, Mettler Toledo truck scale and other customized truck scale. Prices of all the truck scale for sale are much lower than the normal level of scale industry, because of our large production output, mass materials purchasing and mould production.
If you need any kinds of truck scale, please do not hesitate to contact us, we will offer you our best service.
Homepage/ www.hxtruckscale.com
E-mail/ hxscale@hxtruckscale.com